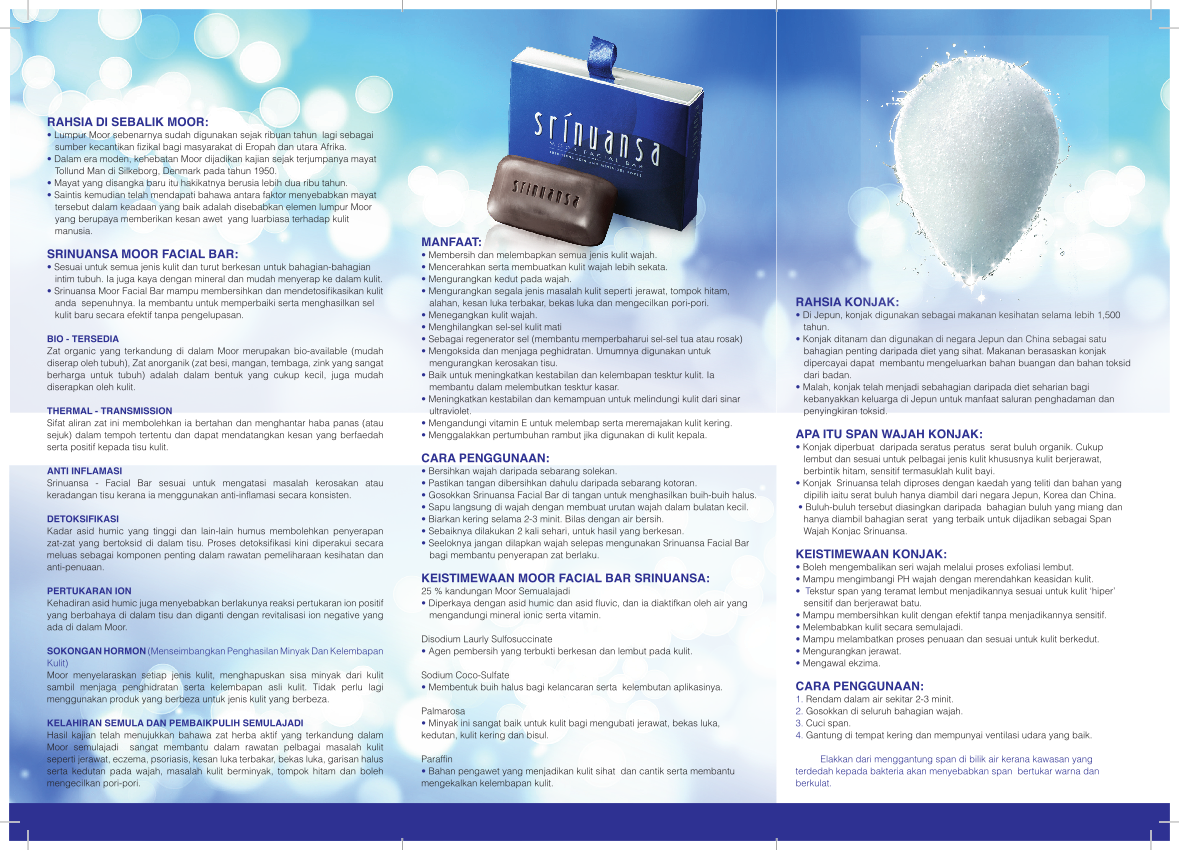 Srinuansa is a company based in Malaysia consisting of people from content creation, advertising, media, skincare and health background. We share the ideas of promoting eco friendly and genuine natural based products. We hope to extend this journey to those who share the same ideas in becoming sustainable and ecological.

OUR PRODUCTS
We have two products i.e: MOOR FACIAL BAR and KONJAC FACIAL SPONGE.
Moor Facial Bar are facial bars made in Switzerland. It is a creation of the peat bog variations which is known to be used thousands of years in Europe and North Africa. It has a truly miraculous effect, and may be used for all types of skins.
Konjac Facial Sponge are derived from the konjac bamboos widely used for consumptions in Japan, Korea and China. For thousands of years, it has proven to be excellent for diversed health purposes. Our konjacs are 100% imported and when formulated into sponge, it exfoliates dead skins and promotes the growth of new skin cells. Easy to use, it gives instant refreshness and improves the skin textures effectively.
What is Konjac Sponge?
The Konjac Sponge is made from the root of the plant known in Japan as konnyaku (in Korea it is called gonyak, in Chinese referred as pinyin).  Rich in minerals, the Koreans and Japanese have been experiencing the benefits of this plant for over 1,500 years, using it for consumption and for its gentle cleansing abilities. The sponge has been used in Japan for about a century for babies' skin, but they've only started to be known around the world in recent years.
Konjac fiber has the ability to absorb a lot of water which creates this bouncy and rubbery texture of the konjac sponge. Because of it's softness and finer textures, the Konjac Sponge is very gentle and safe to use even on sensitive skins.
It is widely used all over the world now as the best face exfoliator for mature skin, sensitive skin, dry skin and even blemish-prone skins.
Why Use Konjac Sponge?
1. Nature Based Product
For thousands of years, the Konjac plant itself has been recognized and used for its medicinal and healing properties. Mostly used for consumptions, it is enriched with vitamins A, B, C, D and E. When it is dried and transformed into sponge, it effectively cleanses and rejuvenates our skin immediately. As it works well for babies, it is naturally suitable for any type of skins, regardless of gender and age.
2. Refreshed & Radiant For All Type Of Skins
When we use Konjac Sponge regularly, it will help in giving that refreshed and glowing complexion that looks natural. It cleanses our skin without affecting the cells hence is excellent for even sensitive skins.
3. Effective For Makeup Removals
Konjac Sponge is definitely one of the best ways to remove makeups (if not the best). It can easily wipe off any makeup traces on our face and gives a clean, refreshed feeling once we're done.
4. Cleansing Effortlessly
The natural fibres in Konjac Sponge have the abilities to unclog pores, treat acne and cleanses skin of whiteheads, blackheads and other blemishes. It is practical, easy and fast.
5. Cost Saving
The Konjac Sponge is an alternative to makeup removers, cleansers, toners etc. Apart from cleansing, it help radiates the skin with its medicinal properties at a very reasonable price.
What is Moor?
Moor is a substance, a unique rare form of nutrient-rich peat that took many thousands years in the making. It is a synthesis of herbs, plants and flowers, with a myriad of organic substances, minerals & phytonutrients, containing nutrient-rich peat which has been created thousands of years by the gradual transformation of herbs, plants & flowers submerged underwater or underground. The plant matter undergoes a 'ripening' process over thousands of years, transforming into a rich, black substance that we refer as Moor. 
During this process all of the organic and inorganic substances within the plants are assimilated into the Moor resulting in a herbal complex with wonderful therapeutic properties.
When the Moor is applied to the skin, it creates a holistic effect throughout the whole system. Substances of the Moor permeates partially between the epidermis cells of the skin. A binding process with albumin in the skin takes place, producing an exchange reaction of ions. Harmful positive ions in the skin tissues are exchanged for the rejuvenating negative ions in the Moor. The particles are then captured by the blood vessels into the system to carry out their precious healing work.
Independent analysis of the Moor indicates that as it contains extracts from hundreds of herbs, grasses, minerals and lipoid, it gives the skin a unique blend of nutrients to nourish, moisturise and hydrate our skin. The beneficial effects of the Moor for health and skins have been experienced for centuries throughout Europe.
The Moor's cosmetic benefits also stem from an abundance of essential oils, fatty acids and lipoid which occur naturally and are not artificially introduced (as in most cosmetics). When applied, it penetrates easily into the skin and subcutaneous tissues, re-establishing the skin's natural pH balance and increasing the flow of blood to the skin.
At the same time, the skin is detoxified, purified, toned and is revitalised by soluble organic and inorganic active ingredients. The Moor is naturally hypoallergenic and also comes in harmony with and benefit any skin type, eliminating the need for many different types of creams.
The active herbal ingredients in the Moor have been found to be helpful in soothing all types of skin. Hence, it suites Srinuansa's philosophy to blend with the nature. To help Improve. Recover. Rejuvenate. Natural beauty restored.